Strange times.
We are devasted to announce we are closed from this Sat as St Andrew's building is closed for people's safety and practicing the best measures possible at this time. We of course are in agreement with this but had hoped to stay open with social distancing and other measures we had already implemented in place. However people's safety is paramount, we are taking this seriously and this is for the best, right now. We are here to help and are continuing our service online you can order from our Eshop and from Eshop's and over phones with all our producers to provide organic food deliveries to you and to continue your best possible food and health with as little disruption as possible. Scroll after the notice below and elsewhere on the site we now have a full list of ordering resources from nearly all of our producers on our home page 
ORGANIC FRUIT & VEG    click here:  Annies Farm Tipperary 
AN TAIRSEACH      EMAIL & PHONE  0404 61914  farmshop@antairseach.ie They are taking orders for deliveries
email they will send product list for your to order. .
ORGANIC MEAT     click here:  Coolanowle Organic Meats
ORGANIC OLIVE OILS & FINE ITALIAN FOODS     Click Here Olivieri's Fine Italian Foods
TARTINE ORGANIC BAKERY    Click here: Olivieri's Fine Italian Foods 
KEFZING PROBIOTIC DAIRY & VEGAN KEFIRS & GREEK DIPS & SNACKS    Click here:  Kefzing or PHONE 0852841957
SUGARLOAF SOURDOUGH BAKERY     PHONE JOHN on 086 6017734
KORINA BAKERY & CAFE DOING DELIVERY ORDERS PHONE CORINA on 087 9671345
URBAN KITCHEN FOODS VEGAN, FREE FROM CHEESES, BREADS, CHOCOLATES & PATISSERIE incls AMBERLINE'S WILD FOODS Diabetic safe PRESERVES & SYRUPS/ELIXIRS  PHONE 087 6508168 Cick here:  www.greenisgoodstore.com 
SUNILS"S ORGANIC CHEESES & EGGS      PHONE He is taking orders for Dublin Deliveries 083 1857448 prices per KG as below.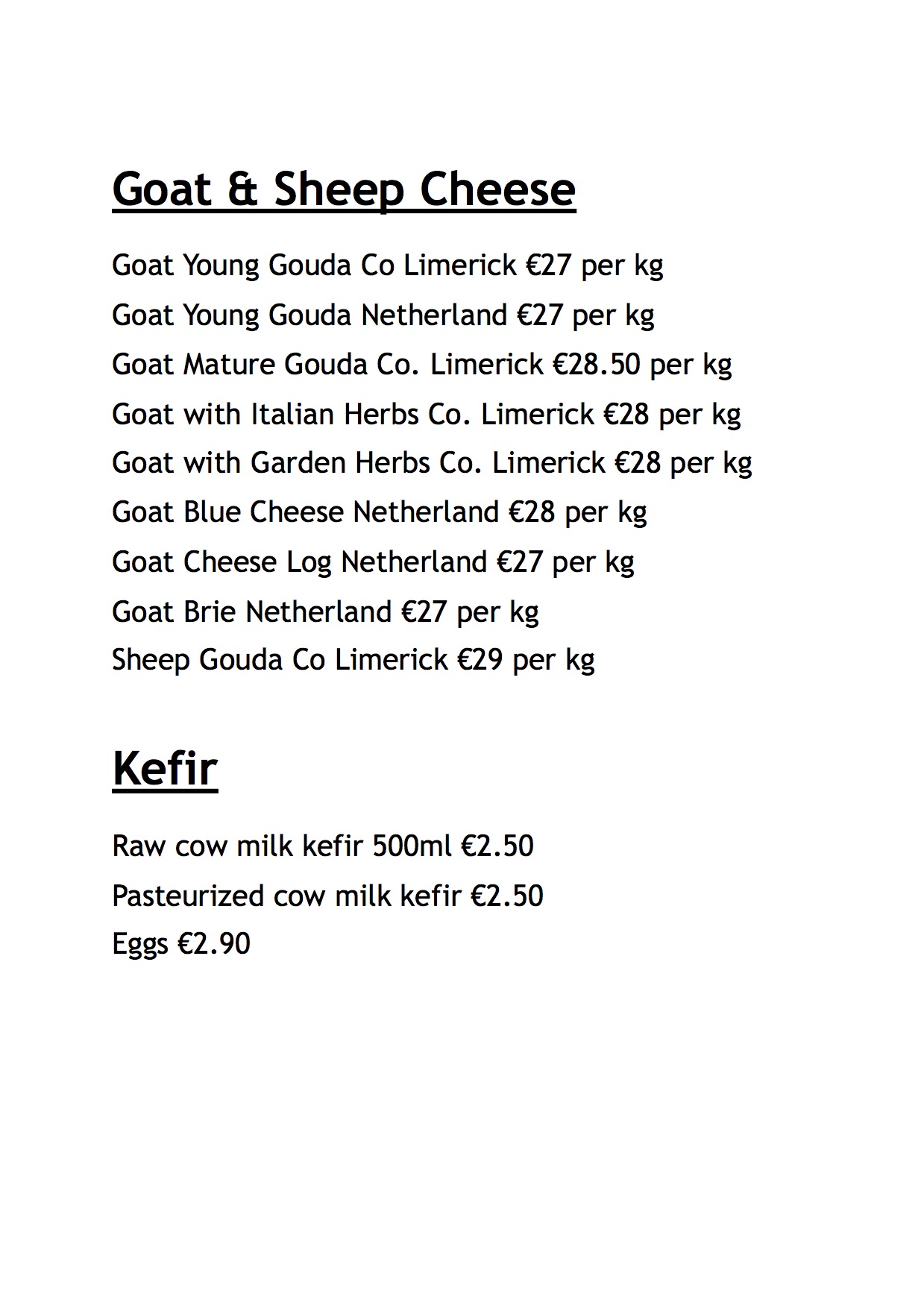 We wish everyone health and positivity at this time. Together we are stonger! Stay well and We're supporting you in everyway we can.